The Slackers
Info | New album | Pictures | Tour dates | Websites



Artist info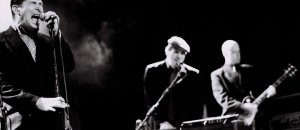 "The Slackers are part of an imaginary universe. It wasn't their fault, well not completely. The caterpillar told them not to eat the mushroom on the right. But they did and for 15 yrs now they've had to play Imaginary-Jamaican-Rock-and-Roll..." Vic Ruggiero, The Slackers



Since their first release in 1996 The Slackers have established themselves as America's premiere interpreters and innovators of Jamaican music. While they have been influenced by Jamaican ska/reggae originators, like the Skatalites and the Upsetters, the NYC-based band sees its music through an American lens: their sound is Jamaican rock n roll. The Slackers are equally appreciative of old blues, 60s soul, rock, and Rnb as they are of reggae, rocksteady, dub, and Ska – as if the Rolling Stones had grown up on Bob Marley as well as Muddy Waters.

Now The Slackers are about to release their 14th album in 15 years: Self Medication. It features 12 songs that find the band continuing to transcend the confines of genre. The album brings the band's eclecticism to a new level. "Everyday is Sunday" evokes equally Joe Gibbs-era reggae and the Kinks. "Don't you want a man" has a loping groove somewhere between Bob Marley and the Meters. "Stars" is pure unabashed Beatlemania while "Don't Have To" evokes Elvis and Rockabilly. As the band matures you can't tell anymore where the reggae ends and the rock begin. It's become the Slackers.



New album: SELF MEDICATION


Despite the fact that they call themselves "The Slackers", they are truly industrious. The already fourteenth album by the exceptional New York Ska band has been released on October 24th. The Slackers have always had their own mind and play by their own rules. In 1991 they began to kick the international Ska scene in the ass coolly and rhythmically. They gave the Blues to Ska, giving it back its soul - and call the outcome Jamaican Rock'n'Roll.

>>> more



Pictures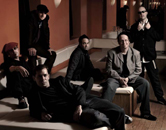 download band picture 645 x 504 px



Live Pictures

(UK 2008, Fotos: Caroline Bittencourt)




Tour dates

The Radio Tour presented by Dynamite Magazine.


Websites



>>> www.theslackers.com
>>> myspace.com/theslackers