Soniamiki
Info | Album | Video | Photos | Tour | Links



Info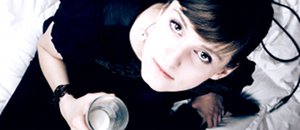 With her second album the electro princess of Poland is reaching the top in her home country. Also in Germany the music press loves her minimalistic electro pop. Because a good song needs only three things: beats, bass and vocals. Soniamiki cooks a whole album out of that recipe - even though in a special way: the electronic beats are stumbling, the voice is one of a girlie like Madonna and the whole thing is plunged in a considerable 80ies flavour.

"... such a cool Polska-Pop wasn't done before" reads the German daily die tageszeitung. The major online mag motor.de finds "SNMK" simply "gorgeous". The magazine for electronic music, DE:BUG compliments the album for being "charming honest and fresh" and writes about the luck that Soniamiki can do it "without straining after effects as the international charts pop does with all its stylistic opportunism". The main music mag intro adores the multiple talents of Soniamiki who did the artwork for the record as well.

Soniamiki is not only making music. She studied film animation. She draws for her own blog and is hanging around with the polish fashion scene. This is where her music career started when she was playing the soundtrack for a fashion show live just with bass and vocals. She has an eye on her music videos or is doing it just on her own. That's why constantly new videos for "SNMK" are released and clicked by thousands. For the single "Night Is So Safe" Soniamiki released the first interactive music video of Poland.

Also live, Soniamiki is merging into a total work of art. She is singing along her bass play supported by a drum computer and sampler. Always on board is a video projector showing animated movies done by herself. In between the songs she's telling a story especially written for "SNMK". The story is about a tension full of expectations from the moment between embracing the new and remembering the past. This maybe also perfectly fits to her own situation as a musician.



Discography




SNMK
(CD 11/2013)
>>> Album info (GER)






7 pm


(CD 11/2009)
>>> Album-Info



Video

Photos


download pic 1417px × 1417px


download pic 1323px × 885px


download pic 1323px × 886px

Tour

new dates planned for 2011.

>>> booking inquiry



Links

>>> MySpace
>>> Website (German only)