Rolando Random & The Young Soul Rebels

band info | line up | discography | band photo | concerts | www.youngsoulrebels.de



The new album: "Hidden Pleasures"



>>> album info, tracklist & MP3s

Band info

Mod is back (I'm In The Mood For A Riot, Baby)

All of a sudden every new band name begins with "The". Thirtysomethings tell each other on cocktail parties that Punk is "back again". Rolando Random & The Young Soul Rebels are the band so far behind fashion to be the real avantgarde. They combine the snotty Punk attitude of the late 70ies with Ska, soulful Reggae, Mestizo rhythms and catchy refrains to makes the audience dance right from the first song and sing along with a raised fist.

The Young Soul Rebels are no nobodies: The musicians play and played with Mother's Pride, Yummy, The Pillocks, Madlock's and Blechreiz.

The "band release party" took place in a parish hall in the run-down Berlin disctrict Wedding on February 15th 2003. As a little bonus, a friend of the band celebrated his diploma that evening (he's a brewer). Now it hast almost become tradition for the audience to throw lingerie on the stage.


Milestones: June 2003 Kulturschock Festival Berlin / August 2003 SUMMER SAFARI Leipzig / Juni 2003 This is Ska! Festival Rosslau / June 2003 Fête de la Musique - Zion City Stage – Berlin / May 2004 Potsdam, Lindenpark with Mark Foggo / June 2004 Backing Band for Vic Ruggiero's (The Slackers) Solo Project / July 2004 Force Attack Festival Rostock / August 2004 OBOA Festival Fort Gorgast / ...


Hans Durst - bass
Johann - trombone, vocals
Mecki - guitar, vocals
Andrei - drums
J.B. Beat - organ
Rolando Random - vocals, alto sax
Matze - baritone sax




Hidden Pleasures

Album-CD (2005) - 14 Tracks
Moanin'/Rough Trade




Hauptstadt Ska

Compilation CD - Skaro Records (2004)

Contribution: Bin grad in Las Vegas, Baby




White Filth And Easy Living - But You Can't Come Close To The Love That I'm Giving

7-Track Vinyl 10"
Dockland Music (2004)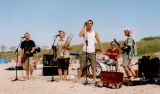 download jpg 1071*630px (386 KB)

Concerts

28.04.2007 Cottbus, Muggefug
30.04.2007 Berlin, Boxhagener Platz
01.05.2007 Berlin, Oranienstraße (in front of the Coretex record store)

... more coming!


The Special Guests feat. Willie Ocean




As an appetizer for The Special Guests feat. Willie Oceans new album (out in April) the single "talkin' bout a revolution" will be released exclusively on iTunes on February 16th. Yes, you're right! The Guests covered the famous No.1 hit from Tracy Chapman. The second track "Beetroot" could already be seen on German-French TV-Station arte on December 30th 2006 where The Special Guests feat Willie Ocean performed to songs live. The new album, also called "Beetroot", will be released on April 20th.