Lo-Fi Youthz
Info | Video | New Album | Picture | Tour | Web



Info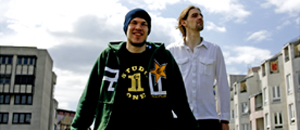 High above the roofs of Berlin the Fire Tower Studio located at one of the big traffic artery is broadcasting it's vibes in the morning sky. While endless queues of commuters in cars and trains are entering the city, Lukas is going to shut down his computer. A new track is in the can.

Lo-Fi Youthz means Reggae, Hip Hop and Dancehall out of the morning of Berlin. Lukas Leonhard and Longfingah are Lo-Fi Youthz. Producer and sound designer Lukas already worked with musicians like Vic Ruggiero at the Fire Tower Studio. He is twiddling with Drum'n'Bass tracks and recording records of Reggae bands. In-between as a finger exercise he plays the drums of an old New Orleans Jazz band at a pub once a week.

Longfingah is one of Berlin's most talented Ragga artists. Many sound systems and Reggae bands asking him to contribute his energetic skills. Moreover the reputation of Berlin's all star band Wood In Di Fire is based to some extend on his abilities. Lukas is playing as in this band too, indulging his passion for a suspect mixture of Jazz and Roots Reggae.

Both Lukas Leonhard and Longfingah merged their capacities for Lo-Fi Youthz and instinctively found a joint entirety that comes straight from the heart. Lukas Leonhard wrote the riddims, built the beats, sampled recordings and invited guest musicians for over dubs into his studio. Longfingah contributed his hooks and melodies to the tracks. He is energetically protesting against insularity, neoliberalism and everyday life's fight for survive. Besides that he probably is still dreaming that finally Berlin will be located at the shores of the see near by the Harz mountains on the back.

'Fly Over The Yard' will be released on moanin' (Alive) as well as at many download shops like iTunes, eMusic, Napste, AOL, etc. on July 17th, 2009.



Video 'Shine'

For the single 'Shine'

Andreas Mulsow produced a nice videoclip:







New Album


Fly Over The Yard
CD (2009)
>>> Album-Info



Picture


download jpg 750x500 px (241 KB)
Foto: Robert Hampicke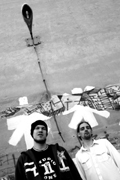 download jpg 1000x1499 px (230 KB)
Foto: Robert Hampicke



Tour

tba



Web

>>> MySpace